Skatopia Skatepark, Buena park, Ca, 1977 - 1979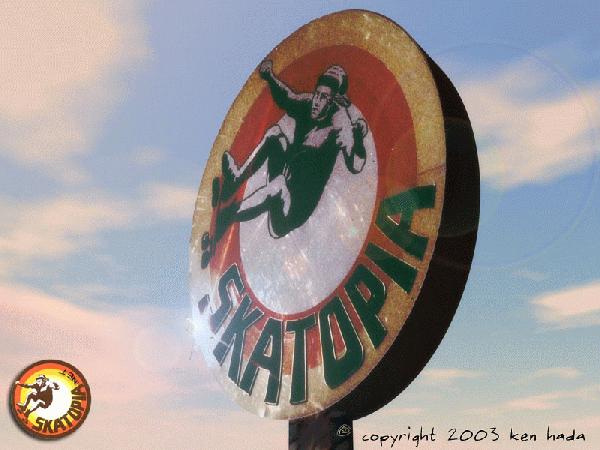 This site is dedicated to anyone who skated Skatopia Skatepark in Buena Park California and to anyone who skated skateparks in general back in the 70's. Although there are a few pro pictures to look at and some pro stories to be told here, this site is more about the experience of skating back in the late 70's at a skatepark(from the perspective of a regular guy). I was in the 8th grade when I first went to Skatopia. So my experience was through the eyes of a 13 year old boy. Do you remember what it was like to skateboard back in 1978?
The Park

The Half Pipe was the crown jewel of Skatopia many a contest was held here and I remember watching the great skaters of the time tearing up this little pipe. Anybody who localized Skatopia remembers seeing Ray Bones go for insane amounts of bricks on this pipe.
Big Snake run, Little Snake Run, Pyramid Bowl, Pool, Slalom Run, Freestyle Area, , Clover Run, Capsule Bowl
The Gear (Gear Rental)

If you were unlucky enough not to own your own pads and helmet, you would then have to resort to the smelly hot and sweaty area of Skatopia named...Gear Rental. After buying your ticket for your two hour session you would then be asked if you needed any gear and depending on what you asked and paid for your ticket stub would have black marker telling the guy at the gear counter what to give you. The gear counter was located in he corner of Skatopias office and was basically four or five cardboard boxed filled with stinky sweaty knee and elbow pads ( no plastic on these suckers just ground grabbing foam and cloth), gloves that looked like and hey were "garden gloves", and of course the gold helmets. I worked the Gear Rental when I first got hired on at Skatopia ( I did other jobs there before being officially hired) and as bad as you might think it was to receive and hand out sweat dripping gear I think it was worse on the guys who had to wear it.
The "Truck Stop"

The microwave hotdogs (more scary than 20 feet of vert!), hamburgers, candy bars, soft drinks ( a lot of skaters liked Mountain Dew with no ice). And of course the dreaded microwave burrito (the corners of this burrito became hard enough to cut glass).
I worked the "Truck Stop" many a summer day and can still remember the very hot and tired faces begging for food (and more important drink.)
Near the end of Skatopia's existence they built a Mcdonalds next door. Most days you would find the locals in Mcdonalds throwing pickles on the roof and shooting straws. One night while many of us where in Mcdonalds getting ready to order some food, Chuck Lantz walked up to the drive thru window (you could see chuck from the drive thru window via a video camera and monitor ) looking up we saw a car order and leave and the next thing there is Chuck shooting the moon to the entire Mcdonalds restaurant. As he pulled his pants down and bent over he said "Hey do you have any of these?"
The "Game Room"

Now this was before Playstation or XBOX. Evil Kenievil Pinball was *the hot* local game. Later on Space Invaders took over.
When I first started skating at Skatopia I didn't ever dare venture into the game room. Local skaters of the day looked like midevel-warriors (to a 12 year old) having some food and fun in *their* cave. They would localize "Evil Kenevil" smoking cigarettes and smakin the pinball machine. And cursing...oh yes.
The Locals

You are the reason I built this site. I had a lot of fun skating and goofing around with you all.
Wow! When I created this site I had no idea how many people would check it out and "check in." I thought "if I find one person it would be worth it." As you can see i found that Skatopia meant as much to you as it did to me. Names in orange indicate Skatopia locals who have contacted this website.
Ken Hada, Toby Woller Clark Staub, Brian Martin, Chuck Lantz, Bobby Lantz, Dale Arden, Matt Cook, Bob Dornewierd, Kelly Belmar, Amy Pike, Jerry Matta, "John John", t-bone, Kelly Martin(and her little brother), Garth Dale, Kim Adrian, Perry Peterson, Joe Wood, Eric Groff, Todd Barnes, Pat Brown, Ron Emory, Mike Roche, Tony Howlett, Jerry Hurtado "Skate Master Tate", Eskimo, Scotty, Susan Whitingham, Alfredo Reyes, Charlene, Micki, Yuki, Tom Scholtz, Cary Tice (team manager) aka Cuda Tice, Ken Mcguire, Groovy Russ, John Lucero, Tom Wally Inouye, Ray - Bones Rodriguez, Mike Rath, Scott Rath, Jim Brewer, Geri, Smily, Marcus Vasquez, Everett Rosecrans, Beetle, Rich Rose, Darin Menasium, Niel Blender, Skip Disney, Martin Disney, Tony Hawk, Stacy Peralta, Russ Howell, Micki Alba, Steve Alba, Lester Kasai, Brad Dorfman, Bill Billing, Dan Colburn.
The Tunes
Skatopia had PA speakers on just about all of the light poles. I was at Skatopia from about 78-79 or 80 (till the day they closed). So the music was the Police, 999, DEVO, Talking Heads, the Knack, ACDC pretty much KROQ was the station of choice. The trailer park next door to Skatopia would complain about the loud music from time to time. We would have to go into the gear rental area to turn the volume down...of course in a few hours the music would always creap back up to a loud volume.
The Tricks
kick turn, grinder, carve, lips slide, rock walk, frontside and backside air, layback, rock and roll, ollie...